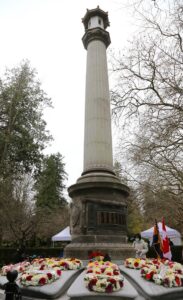 A Remembrance Day memorial service was held in front of the Japanese Canadian War Memorial in Stanley Park, Vancouver, British Columbia, in commemoration of the Japanese Canadians who participated in the war on November 11, 2021.
December 7th, 2021 marks the 80th anniversary since Canada's declaration of war against Japan, in response to Japan's attack on Pearl Harbor in December of 1941. All Japanese-Canadian were subsequently forced to leave their homes and were forcibly relocated to isolated internment camps.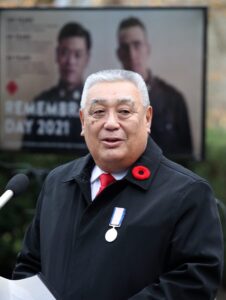 Due to COVID-19, approx. 200 people attended from outside the restricted area
Due to COVID-19 regulations, the number of attendees allowed inside the restricted area was limited to 50 people. However, approximately 200 people attended from outside the area.
The ceremony began at 10:30 am with a greeting from the moderator, David Iwaasa. It was followed by Kevin Takahide Lee's performance of "O Canada", then proceeded by David Iwaasa introducing the representatives of each group who donated a wreath to the service, and a video showing footage of Japanese Canadian soldiers in World War II.
Reverend Roderick Hashimoto of the Konko Church in Vancouver then gave a touching speech, followed by a trumpet performance and a moment of silence.
At 11:00 am, a lament was performed on the bagpipes, followed by another song played on the trumpet. Eileen Kitamura then read "In Flanders Fields" and David Mitsui gave a speech commemorating the 90th anniversary since Japanese Canadian veterans from WWI won the right to vote in Canada.
Subsequently, three attendees, including the honourable Dr. Hedy Fry, MP of the Vancouver Center, gave heartfelt speeches. Finally, the representatives of each group donated their wreath to the memorial stand, and the one-hour ceremony ended with Kevin Takahide Lee performing "God Save the Queen."
After the ceremony, other attendees started offering their own lapel poppies to wreaths at the memorial stand.
"I hope that the more recent Japanese immigrants coming to Canada will also be interested in this history."
The Consul General of Japan in Vancouver, Takashi Hatori, attended the ceremony and told us that this is his fourth time attending the memorial since his first arrival in Vancouver as Consul General. He emphasized the importance of Remembrance Day in commemorating the Japanese immigrants and Japanese Canadians who suffered during the war. He additionally hopes that the more recent Japanese immigrants coming to Canada will also be interested in this history.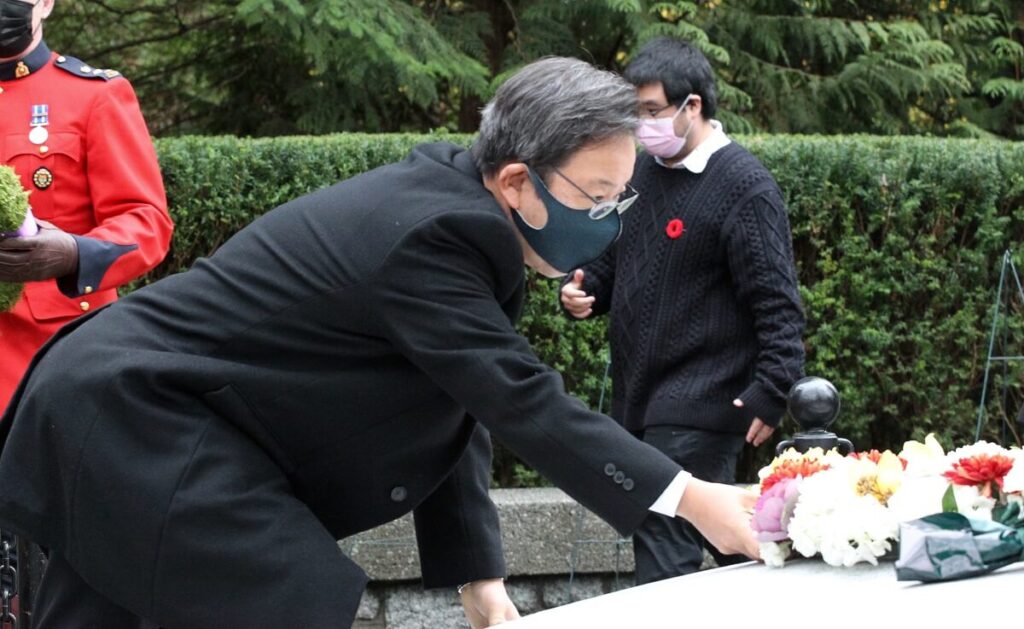 "You are your best advocate, so be grateful we are all in this position. Pave the way to be stronger than the last."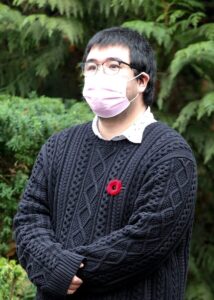 Mike Yamauchi, a 29-year-old fourth-generation Japanese-Canadian whose grandfather fought and was a troop to Europe in World War II, said "I believe that Covid-19 has affected the economy and biased people towards racism and nationalism. However, I also think that it was a wake-up call for our society, as we were able to take a step back and realize what is important in life.
Reconciliation for Indigenous communities that faced the atrocity of residential schools are finally getting recognition.
People are standing up to their employers and demanding fair treatment. The everyday unnecessary actions are being rethought, moving to working from home, and meetings over zoom."
He added, "The most important thing in my life is my current family and pets. It has taught me to cherish the items I have and the relationships I continue to have, as my family who didn't go to war during WWII were stripped of their possessions and sent to internment camps."
He advised the youth "to speak up and fight for what's best for yourself even if it causes turmoil with others. You are your best advocate, so be grateful we are all in this position because before the war, it wasn't like this. Spend time learning about the previous generations, what they experienced, what they went through, and pave the way to be stronger than the last." On a final note, he suggested the youth to "learn from our elders so we don't make the same mistakes."
The live streaming of the memorial service has been released and can be accessed here. Remembrance Day 2021 at the Japanese Canadian War Memorial in Vancouver, live stream
Wreathe Laying:
BESL legion #9
S-20 & Nisei Veterans Association
In honour of Roy Kawamoto
Government of Canada
Consul General of Japan
RCMP
VPD and Mounted Squad
NAJC
NNMCC
City of Vancouver
Vancouver Parks Board
GVJCCA
Tonari Gumi
VJLS & Hall
BC Jodo Shinshu Temples
Vancouver Konko Faith
Vancouver Japanese United Church
Vancouver Holy Cross Church
Seicho-No-le Church
North American Daughters of the Revolution
(Reporting in Japanese/Photos by Toru Furukawa; Translating and editing by Keiko Nishikawa; Video by Koichi Saito)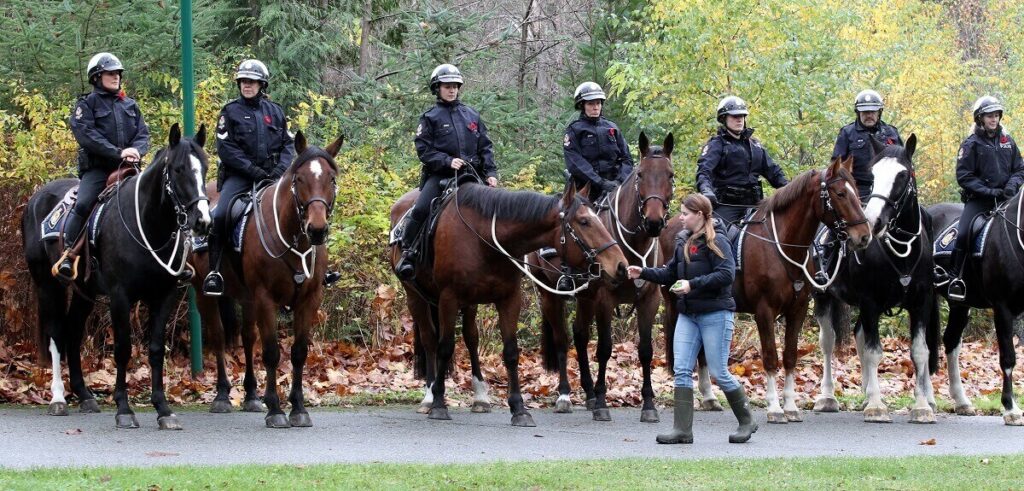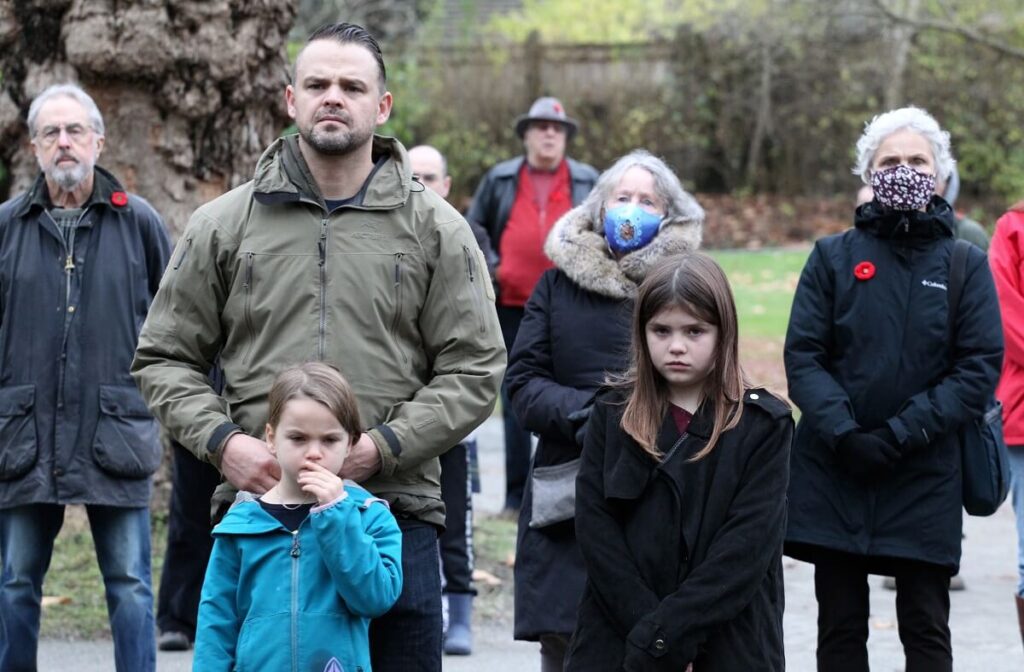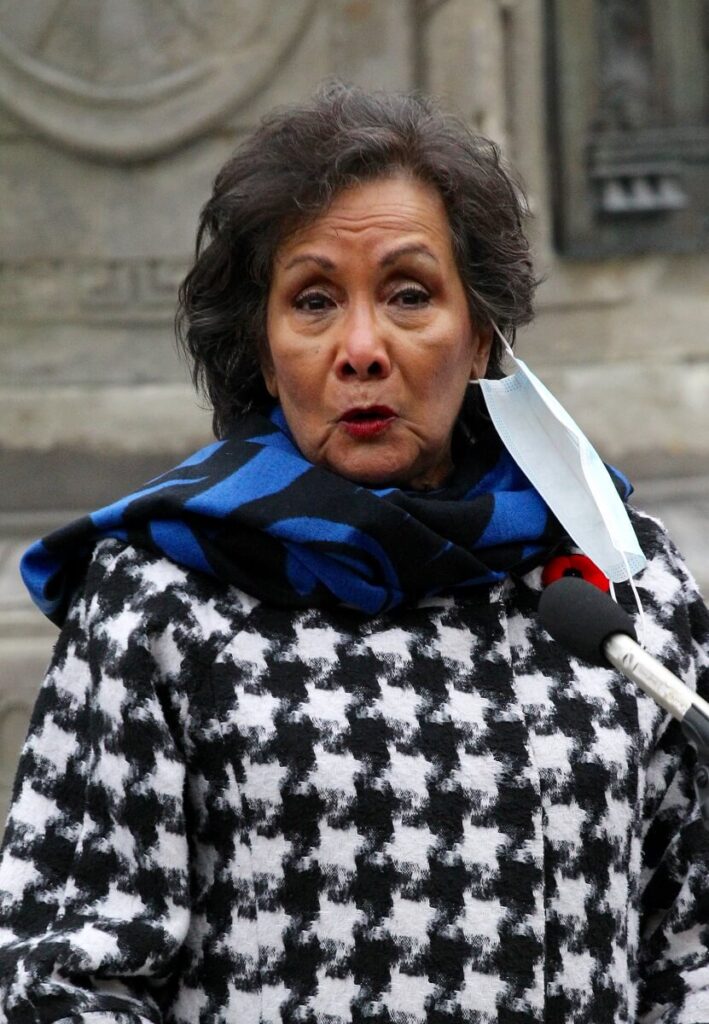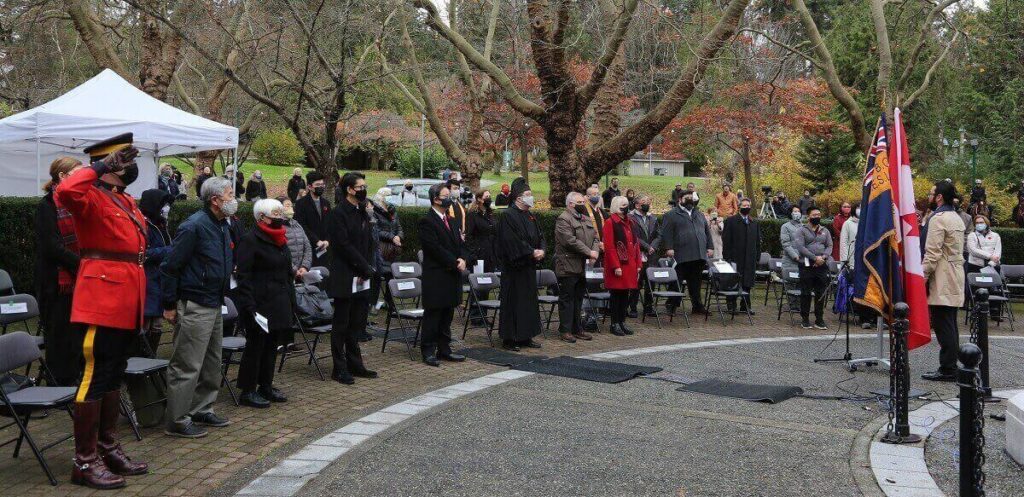 合わせて読みたい関連記事